Place makers creating
innovative, intentional
planned communities.
Communities Crafted with Intention
Vested with deep industry knowledge and experience, GaleHart is uniquely qualified as Best-in-Class in the market to build Planned Communities defined by a coveted quality of life and exceptional design.
"With expertise in creating a special sense of community, we bring to life the land we develop. Our long-term approach to community creation ensures we deliver on our vision while responsibly managing our partners' investment."
Dave Gale and Tom Hart are two seasoned developers with a lifelong passion for creating communities that inspire a life well-lived.
The principals' collective experience, focus, creativity, passion, and collaborative approach is the formula that maximizes investor returns while creating best-in-class placemaking.
The cities they've partnered with their projects continue to grow with thriving families and businesses.
Dave loves building community.
G. David Gale is Partner and Co-Founder of GaleHart Communities LLC, community developer of Montage, an 1,100-acre mixed-use planned community in Liberty, Missouri, and is President of Gale Communities, Inc. which currently has been developing the 1,200 acre "Six Neighborhoods of Winterset" since 1989. In previous years the company conceived of and initiated the development of Arborwalk and New Longview in Lee's Summit, Missouri.    
Since its inception, Winterset, New Longview and Arborwalk have delivered over 2,500 single-family and 920 multi-family residential units, along with 200,000 square feet of commercial space plus an elementary school, church, numerous parks, etc. At build-out, these three large, mixed-use projects will have a total capital investment projected at $1.6 billion and consist of over 5,500 residential units, a million and a half square feet of commercial space, parks, trails and lakes, several churches, schools, etc.
Gale Communities has led master planning projects for the city of Gladstone, Missouri, and Mission, Kansas. Dave is Canadian-trained in property development and community design.  After he and his partner created, expanded, and ultimately sold Canadian Framing and Art Group (a national retail, warehousing, distribution & commercial property development business based in Toronto), Dave made his first land investment in the Kansas City area in 1989.
Resident in Lee's Summit since 1996, he is an active community volunteer having served on the boards of the Greater Kansas City Community Foundation, Eastland Foundation, Real Estate Community Foundation, Lee's Summit Civic Roundtable, Premier Life, New Longview Foundation, and was charter president of Lee's Summit Sunrise Rotary. He is a past chair of the Johnson County Art Council, John Knox Village, and the Lee's Summit Economic Development Council. Dave is a 36-year Rotarian, President of the Winterset Park Community Association, and is Vice-Chair of Deep Roots KC (formerly the KC Native Plant Initiative), a collective impact organization comprised of multi-sector Partners working to increase native Missouri plant landscapes on both small and large scales.
Fun fact: Dave is a competitive sailor.
Tom loves bringing out the best in team members.
Tom Hart is Partner and Co-Founder of GaleHart Communities LLC, community developer of Montage, an 1,100-acre mixed-use planned community in Liberty, Missouri. Tom has been in the real estate industry in various executive roles in commercial and residential development for regional and national real estate firms, as well as companies and partnerships he has founded. Now residing in Kansas City, Tom brings a national perspective having developed in Colorado and California, including the trend-setting 5,000 acre Stapleton community in Denver (now re-branded as "Central Park").
Over the past three decades, Tom has planned and developed over 4 million square feet of commercial space and 15,000 acres of mixed-use, master-planned, and residential communities, most notably: Montage, Whisper, Stapleton, The Meadows, The Lanterns, and California Plaza.
If there is one quality that sets Tom apart from other developers, it is his skill at orchestrating highly complex projects. He specializes in keeping all the elements in balance, planning to ensure that the inevitable downturns during a multi-year project don't derail it along the way.
Tom is also an accomplished Speaker, Success Strategist, and Master Coach. He presents workshops, provides individual executive and life coaching, and consults with organizations on success topics in Denver and Kansas City.
Tom holds a Bachelor of Business Administration (BBA) in management and strategic planning from California State University. His industry and community involvement includes board or leadership committee seats on the Oaktree Foundation, Urban Land Institute, NAIOP, and Home Builders Association.
Fun fact: Tom is a nutty cyclist.
Past Projects & Affiliations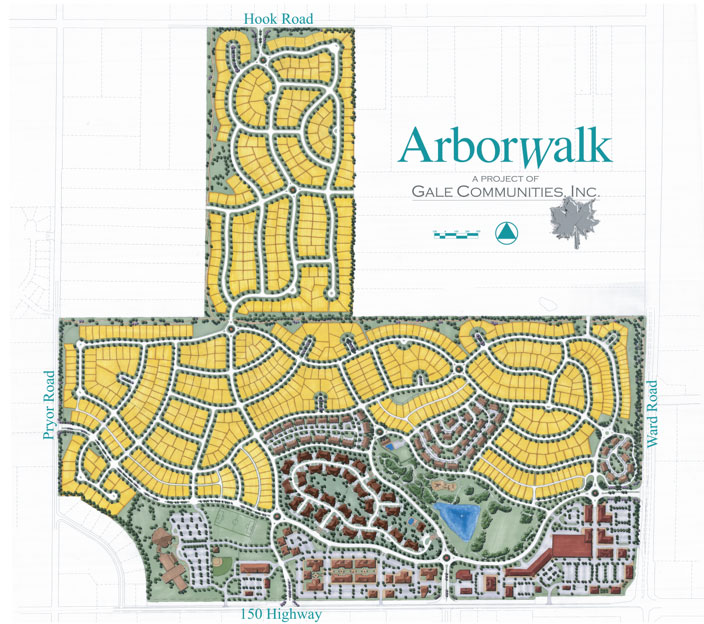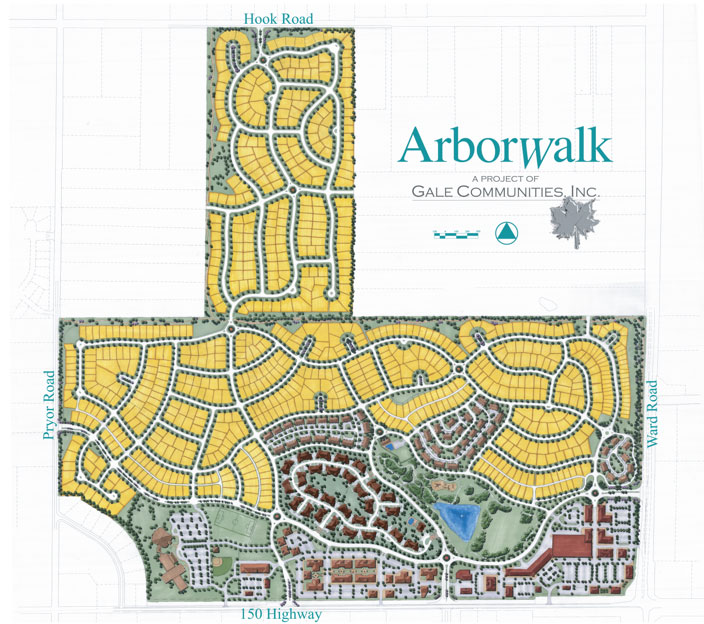 Lee's Summit, MO
Arborwalk
400-acre MPC

Arborwalk, at 400 acres, this has been designed and built with a range of entry-level, first move-up, and renter-by-choice housing in addition to parkland, commercial uses and the Holy Spirit Catholic Church and School.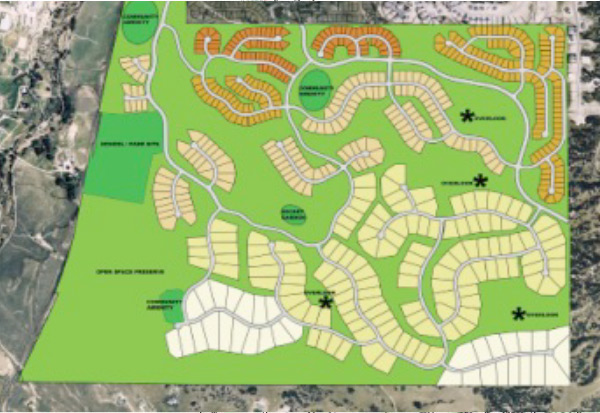 Parker, CO
The Lanterns
847-acre MPC
The Lanterns (now Montaine) encompasses approximately 847 acres entitled for 548 single family detached lots providing for production, custom and luxury custom home sites. Approximately 292 acres is designated as dedicated open space and 23 acres for neighborhood park and an elementary school. The goal of little impact on the land was an over-riding objective of the street configurations, grading, and utility layout, protecting the natural beauty of the site which includes scenic views and indigenous vegetation.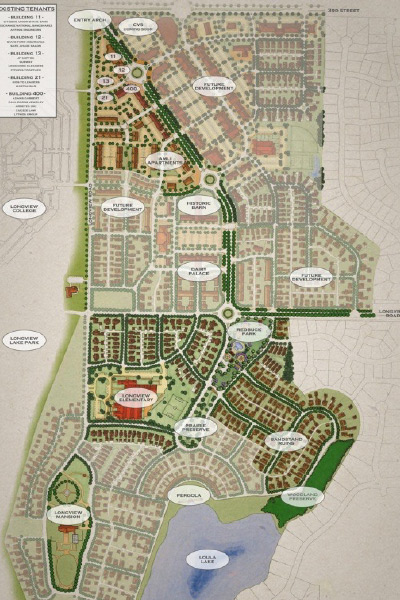 Lee's Summit, MO
New Longview
260-acre TND Mixed-Use

New Longview, the residual acreage of the Longview Estate, includes eight historic buildings, several hundred TND (Traditional Neighborhood Design) homes, 250,000sf of complementary commercial uses along with over 700 lifestyle apartments. In addition, an elementary school, church, etc.
Castle Rock, CO
The Meadows
4,000-acre Mixed-Use MPC
The Meadows is a master-planned community of approximately 4,000 acres of planned residential and commercial areas including a Cultural Arts Center, outdoor pools, community parks, many miles of trails, and landmark events and programs. A 200-acre Town Center, 300-acre Retail and Entertainment District, and the initial 700+ acre mixed-use Village is the shining centerpiece of the project.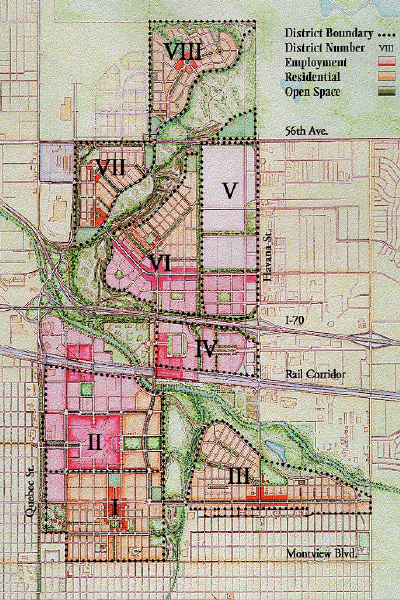 Denver, CO
Stapleton
5,000 acre Mixed-Use MPC
Senior executive of the team responsible for the initial Stapleton Development Program and Design Guidelines and Architectural Standards.
Stapleton (now Central Park) Stapleton is the largest mixed-use master-planned community in the country encompassing over 5,000 acres of residential and commercial uses. It is a remarkable project that is reshaping what the possibilities of a MPC could be.
Parker, CO
Whisper
575 acre MPC
Whisper includes 334 homes in five product lines of homes including patio homes, production homes, semi-custom, custom, and estates on 575 acres of beautiful Colorado rolling hills. This gated, high-end residential community includes over 50% open space affording every lot to be green-adjacent. Focus groups validate the land plan with a character "rural elegance without the maintenance of owned acreage."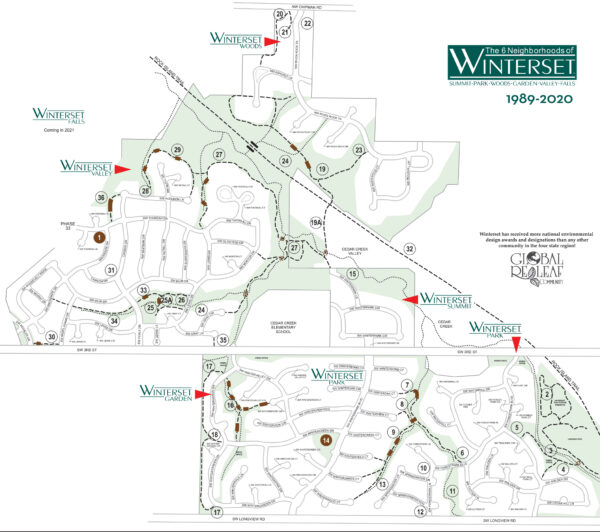 Lee's Summit, MO
Winterset
1,200-acre MPC

Winterset, the 1200-acre community is composed of six neighborhoods with executive and estate homes nestled among hundreds of rolling acres of native and built parkland, 10 miles of walking trails, pocket parks, three distinct swimming pools and playgrounds. Designated a Global ReLeaf New Home Community.
Care through Creating Communities
GaleHart Communities is a Kansas City-based, real estate investment and development company. Founded by master developers Dave Gale and Tom Hart, the founding partners have set themselves apart from other developers through careful intention in creating sustainable communities where businesses and families are able to grow and thrive.
Their rich history is a tapestry of experience with a combined 60+ year history developing over 4 million square feet and 20,000 acres of planned mixed-use, office, and residential communities. They've provided award-winning living, working, and playing environments for the most discerning of businesses and families in the Midwest and Rocky Mountain Regions.